During the Second World War, guaranteeing against "war risk" became an obvious emergency, especially in the field of transport, and maritime transport in particular. In the Historical Archive, the files related to "damage to bodies", that is the coverage of large vessels insured by Generali, bring to light episodes that are at the same time significant and tragic. Descriptions of claims, reports contained in nautical log books, appraisals (which preserve the first evidence of the use of photography for estimations of damages) offer us the opportunity to retrace some events that affected the Italian merchant navy during the war.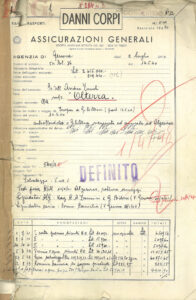 The first victims could already be counted in 1939 in the North Sea, a densely mined area subjected to German air raids. Italy's entry into the war on June 10, 1940 resulted in the catastrophic loss of almost one-third of the civil fleet due to seizures and scuttling in ports that now belonged to the enemy. For example, in the Spanish port of Algeciras near Gibraltar, the Olterra tanker was scuttled, and later refloated. What does not emerge - nor could it emerge - from the dossier related to damage is that the ship was used in secret between 1942 and 1943 by the navy of the Kingdom of Italy for raids against the English base using human torpedoes (rideable submarines), commonly known as "maiali" (pigs).
Some ships, especially belonging to the Lloyd Triestino, which was engaged in several routes to the East, were trapped in the Red Sea to avoid capture and remained there until the fall of the colonies in East Africa in 1941.
The Italian and British navies fought the so-called "war of the convoys" in the Mediterranean, each one against the other to guarantee the transport of their troops and materials, in particular towards the Balkan and African fronts. There are very many testimonies of torpedo attacks and aerial bombardments suffered during all the years of the conflict in Italian and Libyan ports, or incidents of collision between ships carrying the same flag due to blackouts.
After September 8, 1943, it was the former German and Japanese allies that carried out seizures of ships: several files in the Archive note that the ship "passed to the Germanic authorities using the force of arms".
Damage to the civil fleet was recorded until the last days of war in 1945, with clashes between Germans and Italian partisans, but there were also cases of damage in subsequent years, especially to fishing boats, due to mined areas that had not yet been cleared.
For further information, see M. MARIZZA, The War Chronicles. World War II Stories about War Risk, in Generali in History. Tales from the Archive. Twentieth Century, Venice, Marsilio, 2016, pp. 196-203.